THE DIAMOND AS THE EMBODIMENT OF SCALABILITY –
RAUTEBLAU

by Studio ABERJA.
An ocean of tilted ceramic surfaces. Symmetrical, yet not symmetrical.
With the RAUTEBLAU ceramic tile, designer Robin Heather from Studio ABERJA is taking ceramics to where they belong and where they offer so many design possibilities. On walls and commercial projects, edgings and niches, stoves and fireplaces. And with dimensions that almost seem progressive. In a ubiquitous interaction of geometric shapes, inclined surfaces and interesting light reflections which create a new scene depending on which angle you view it from.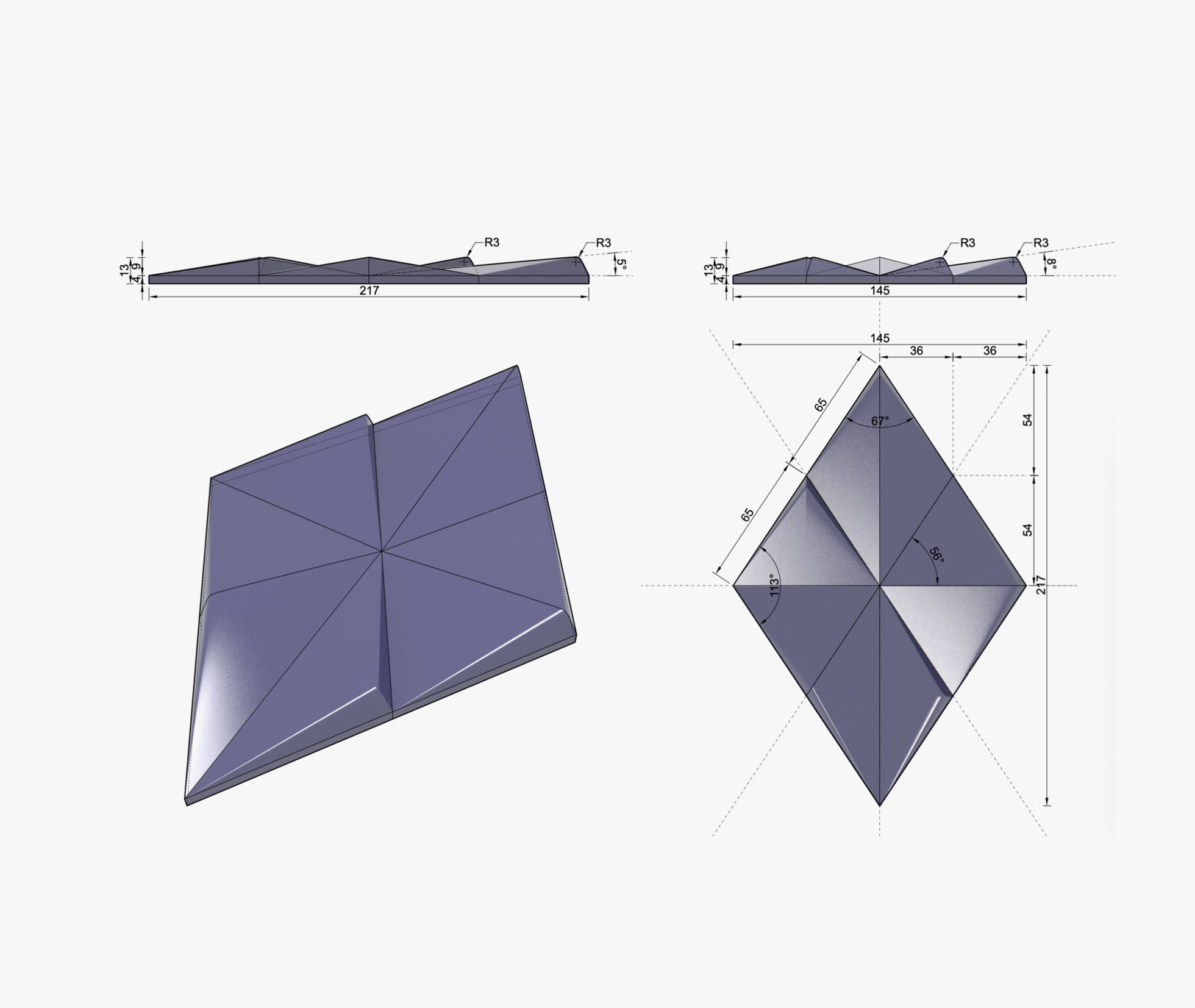 DESIGN IDEA
Symmetry vs asymmetry.
The so-called Frankfurter tile is defined by diamond-shaped symmetry in both X and Y axes. From above, everything seems symmetrical and straight. However, if you look at it from the side, the polygonal protrusions and radii of the relief tile break up this almost perfect uniformity.
RANGE OF SHAPES
An invitation to repeat the pattern.
In nine different shapes, you can arrange whole tiles, half and quarter tiles horizontally or vertically to create almost countless laying patterns. Random arrangements produce new wall appearances and reflections. And, thanks to its hand-made form, the repeating pattern never looks monotonous – it stays lively and packed with surprises.
LIGHT AND SHADE
Depending on each way the light falls, a new spatial experience is created.
Like the free and playful nature of the waves, the RAUTEBLAU tiles with their varied inclinations all glitter and sparkle. The room design adapts with its environment. You want to watch the wall while it transforms, touch it, and enjoy the show.
COLOR DIMENSIONS
Even the glaze has some depth.
Our RAUTEBLAU is available in 30 different faces glazes which emphasize and support the multi-dimensional nature of the tile even more in terms of degree of reflection and depth of glaze
The Bonechina project
This new bar concept in the heart of Frankfurt's party scene cried out for a new form of wall design: the premiere of our RAUTEBLAU.
Your project with RAUTEBLAU
Do you have a question about our RAUTEBLAU, or a specific project? We're happy to help.