THE CERAMIC TILE WITH AN EDGE.

FOLD

by Kai Linke
A little detail, a big impact. Pure understatement.
FOLD. You can see how it gets its name. A folded, paper-like ceramic tile with Kai Linke`s signature. This inconspicuous fold transforms stoves and walls into minimalistic, expressive witnesses which give a room structure and charm. Depending on the time of day and the effect of the light, you see impressive effects with the contemplative reflections on the ceramic surface.
DESIGN IDEA
Paper as the guiding theme.
The creative examination of paper inspired designer Kai Link to undertake this ceramic balancing act. Just like a piece of paper, folded in the middle, the fold lends clarity and elegance to the tile. Before the prototype, the designers used numerous plaster models to come close to this paper fold which is modest and yet so meaningful for room design. The route to the perfect fold was a shared and unforgettable experiment.
FULLY EXPANDED
With header and corner pieces.
Whether around a corner, on a flat surface or as a seamless transition onto the horizontal plane. In collaboration with the designer, a special header tile was developed especially for the FOLD series. This allows us to use the series to cover system stoves.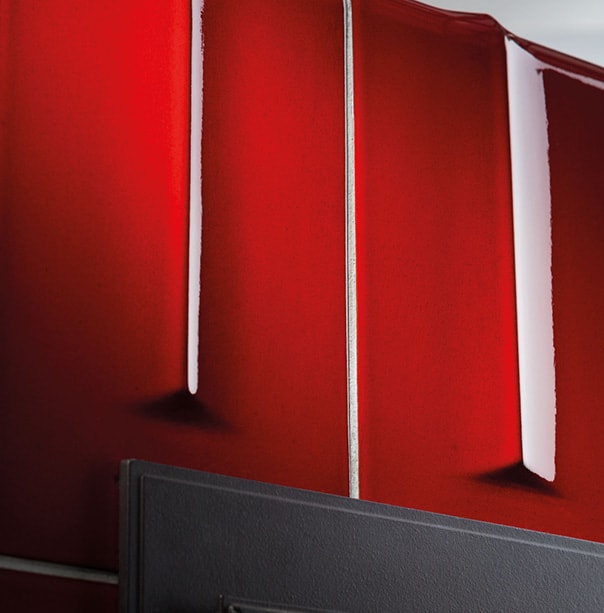 SHADOW PLAY
Like in a time loop.
The seemingly modest detail of a fold breaks the light into infinite ambiences. As each tile is handmade, this effect is intensified even more.
CRAFTWORK
The design is one thing, the craftwork involved in creating it is a whole other story.
Each of our FOLD tiles was created and finished especially for you by gentle and intricate craftsmanship. Real unique pieces with their own character. You can feel and see this.
"A bit of optical illusion is the best thing that can happen to a tile. It was a challenge and a joy to turn it into the perfect form."
Kai Linke
Your project with FOLD
Do you have a question about our FOLD, or a specific project? We're happy to help.